Sun, October 7, 2012
Flopcast 022: Messing With Your Knobs
Kevin and Kornflake ponder the comedic value of lobsters (sure, they might be funny, but not on the level of, say, chickens); we look back at 1980s cable TV, which mostly involved watching Toto's "Africa" video, again and again; our "Chickens in the News" segment takes us all the way to the White House; and, as requested by absolutely no one, we present a Top 4 &frac12 List of our favorite green cartoon characters. (We're, uh, sort of making this up as we go along.)
---
Show Notes
Our thanks go out to Rebecca Watson of Skepchick and The Skeptics' Guide to the Universe for recording a Flopcast ID!
---
Life on the V: The Story of V66 will chronicle the short but eventful life of Boston's own video music station, fondly remembered by those of us who know what "UHF" means.
---
Suspiciously Photoshopped chickens on the White House lawn? Better call the Secret Service!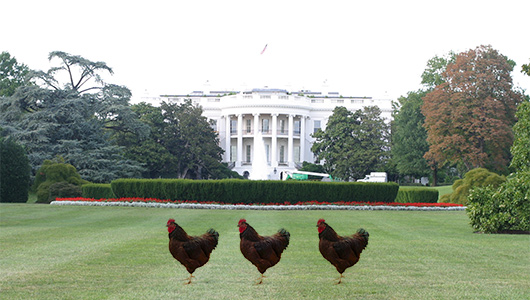 ---
Because our ideas just keep getting weirder, here are our Top 4 &frac12 green cartoon characters:
Marvin the Martian

Green Arrow

Baby Kermit

Pete's Dragon

Goblin from Homestar Runner

Frankie from Drak Pack

Slimer from The Real Ghostbusters

Yuckmouth

The Grinch

The Great Gazoo
---
And finally, for all your Dave Coulier needs (if your needs are limited to looking at a single photo), check out this Tumblr. Or, simply look below!