Sun, June 30, 2013
Flopcast 060: LukeSkiCon 2013 - The Internet Can Hear My Belly
Kornflake returns from Chicago with a full report on LukeSkiCon, which featured comedy music performances, a field trip to the Galloping Ghost Arcade, a Top 4 &frac12 List recorded especially for The Flopcast, and more demented water aerobics. Also: I Forgot Day is this week (or maybe it was last week, whatever); we learn of the existence of lobster coffee; and we look forward to CONvergence, where we'll be joining the Skepchicks, the Rifftrax guys, and yes, once again, the great Luke Ski. Yikes, this is our LukeSkiest show ever. We have a problem.
---
Show Notes
On July 2, I Forgot Day, you can make amends for all the occasions you've forgotten. Hopefully someone will remind us.
---
A visit to the Galloping Ghost Arcade was one of the many activities Kornflake participated in at LukeSkiCon. She also enjoyed performances by Power Salad, Jared Ringold of Possible Oscar, Insane Ian, and Carrie Dahlby, as well as the man of honor. Plus, she had two more chances to teach water aerobics, was gifted with lobster coffee from The Pod of Destiny, and finally got her Matthew Wilder on at karaoke.
---
Kornflake performs her live Top 4 &frac12 List: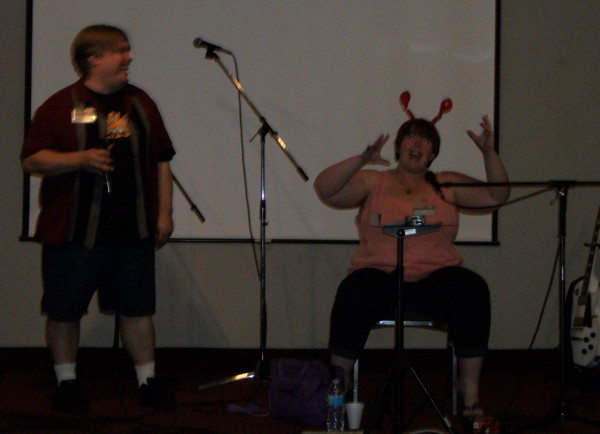 Luke Ski performs "Bender Roboto":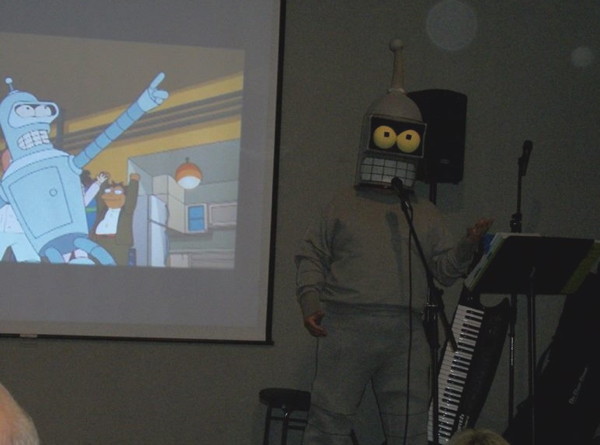 Photos courtesy of Tim Winslow
---
Kevin and Felicity will be attending CONvergence in Minneapolis, July 4-7. You might spot them at some of the SkepchickCon programming or in the Skepchick party room.
---
The song heard at the end of the show is "LUKE SKI!" by The Consortium of Genius, from the new Worst Tribute Ever album.