Sun, August 4, 2013
Flopcast 065: Why Don't We Flop Away
Because we're just so dangerously obsessed with the 1980s, this week's Top 4 &frac12 List features cover versions of 80s songs! (Needless to say, Cyndi Lauper is well represented.) Also: Gummy lobsters (a delicious choking hazard), Kornflake's Barenaked Ladies & Ben Folds Five concert report (we're starting a rumor that she parked her car onstage during the show), and National X-Files Day (which we just invented, and which we should've called National Yip-Yip Day).
---
Show Notes
Noting that David Duchovny's birthday is August 7 and Gillian Anderson's is August 9, Kornflake declares August 8 "National X-Files Day", the Flopcast's first original holiday. Felicity was a semi-faithful viewer of The X-Files, but Kevin and Kornflake don't know their Mulder from their Scully and would rather just celebrate the Yip-Yips.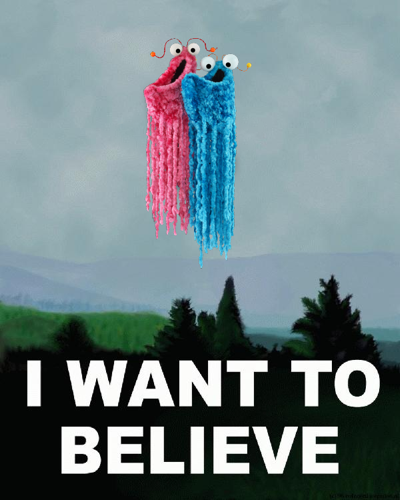 Inspired by Know Your Meme
---
Gummy lobsters may be the better choice for the seafood-averse among us, but please chew responsibly!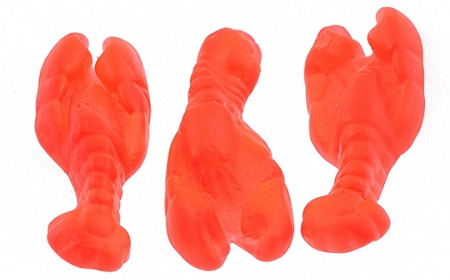 ---
Top 4 &frac12 Covers of 80s Songs:
Girlyman covers Cyndi Lauper's "All Through the Night":
---
The Hooters' Rob Hyman co-wrote "Time After Time" with Cyndi Lauper. The band often performs it live, and it's included on the Five By Five EP.
---
Here's The Postal Service with a haunting version of Phil Collins' "Against All Odds" (which our friend Kim Jennings has been known to cover as well).
---
The Ramones tribute We're a Happy Family features many great covers of their 70s output (U2 performing "Beat on the Brat" is a highlight). Kevin's 80s pick is "Do You Remember Rock and Roll Radio" as performed by Kiss.
---
Neil Finn of Crowded House put together a supergroup of sorts with 7 Worlds Collide in 2001. For that project, he collaborated with The Smith's guitarist Johnny Marr on a cover of "There Is a Light That Never Goes Out".
---
Devo's "Turnaround", the B-side to "Whip It", was covered by Nirvana and included on their rarities album.
---
Here's a hard rock interpretation of Wham's "Careless Whisper" by Seether:
---
Drink a Toast to Innocence was discussed in Flopcast 055. From that project, Kevin selected Mike Viola's cover of "Steal Away" by Robbie Dupree as his #1. Felicity is a big fan of Viola's work with The Candy Butchers, as a solo artist, and in collaboration with Bleu (also on the lite rock tribute album with "Baby Come Back").
---
Eddie from Ohio vocalist Julie Murphy Wells delivers a lovely rendition of Pat Benatar's "We Belong", accompanied by the song's co-writer, Dan Navarro.
---
Everybody Wants Some (of Van Halen) featured Boston-based artists including Mary Lou Lord and Gigolo Aunts. The latter tops Kevin's list with a Beatles-esque cover of "Why Can't This Be Love".
---
Bonus: the now-defunct tribute band Hair Supply just might have been the best idea ever!
---
How's this for coincidence? Just last week, Buzzfeed offered up a list of 21 Cover Songs That Make You Realize How Amazing the Originals Were. Though not limited to 80s songs, the list includes Kornflake's #3 "Against All Odds" as well as "If You Leave", "Bizarre Love Triangle", "Rich Girl" (from an entire album of Hall and Oates covers by The Bird and the Bee), and Felicity's personal favorite: Gary Jules' mournful cover of "Mad World" by Tears for Fears.