Sun, July 20, 2014
Flopcast 115: CONvergence 2014 - The Floor Is Lava
This week we're joined by the Mayor of Chickentown to discuss our weekend at CONvergence in Bloomington, Minnesota! A few thousand of our fellow geeks (including our friends from Skepchick and Mad Art Lab) gathered there for four days of science and silliness. Kevin appeared on a few nerdy comic book-themed panels, while the Mayor participated in a Doctor Who improv game show (which also included author Paul Cornell and comedian Joseph Scrimshaw, so you know, no pressure). We also found mermaids in the hotel pool, ran into a Starfleet-uniformed Sleestak, learned way too much about Rebecca Watson's cats, and discovered that yes, the floor is lava. Meanwhile back in Chickentown: Kornflake is celebrating Hammock Day (which involves a lot of frantic, intense relaxing), and our latest concert report will have you dancing on the ceiling with your favorite clay head. Hello.
---
Show Notes
It's National Hammock Day on July 22! Find yourself a hammock and relax. WE COMMAND IT!
---
Lionel Richie still looks and sounds great! Kevin may have been the more enthusiastic one going into the show, but as usual, Felicity enjoyed herself more genuinely and less ironically than she expected.
---
Get ready for a photo-intensive review of CONvergence!
Kevin on the Fables panel with Garrick and Alexa (as Snow White):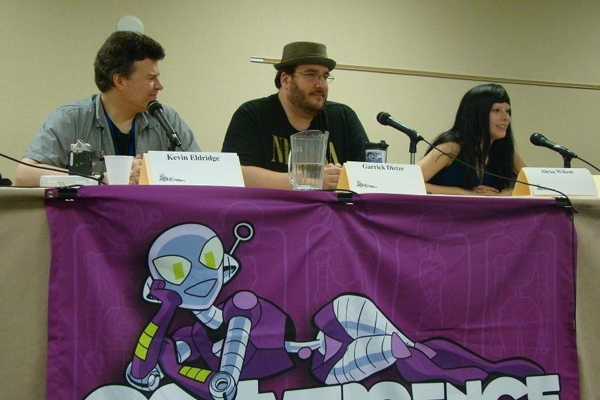 Felicity (far right) on "Hypothetical Who", with Michael Lee, Lynne Thomas from the Verity! podcast, scorekeeper Alee, mastermind Paul Cornell, and comedian Joseph Scrimshaw: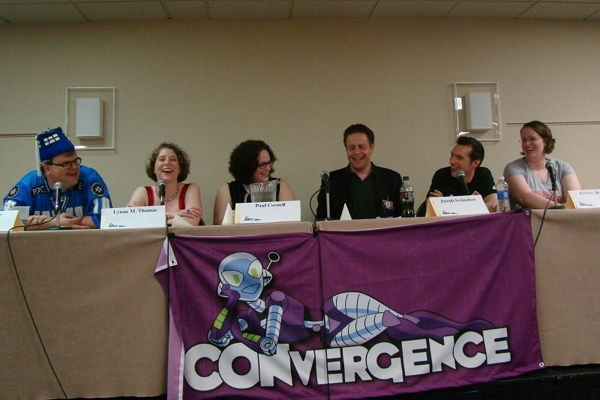 Joseph Scrimshaw presiding over a hilarious and bizarre episode of the Obsessed podcast with Tim Wick and Rebecca Watson: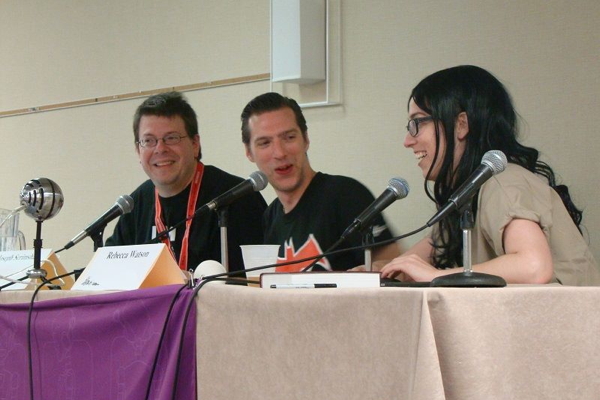 "Things I Licked for Science", with Matt Kuchta, our friends Gwen (aka Bug Girl) and Mad Art Lab's Emily and Anne, moderated by Desiree Schell of Science for the People: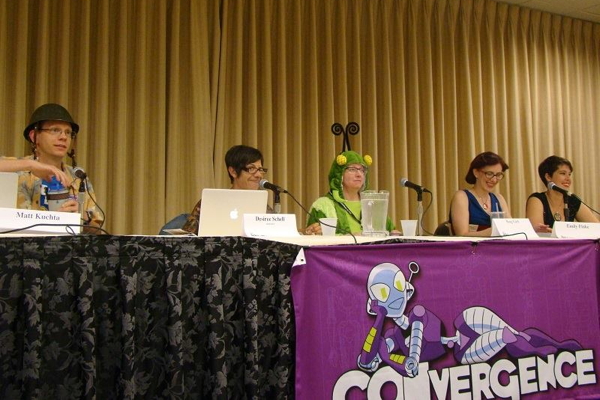 ---
Our favorite group cosplay, the Skepchicks as the cast of Orange is the New Black: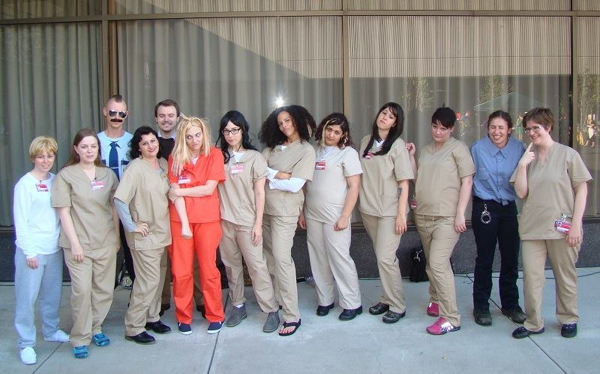 Check out Jamie's excellent photos of these and other costumes displayed by Skepchick and Mad Art Lab bloggers.
Our second-favorite group cosplay, King of the Hill: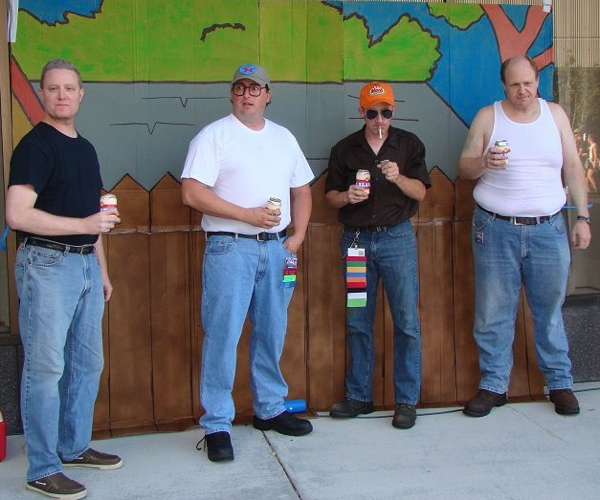 Kevin's single favorite costume, Starfleet Sleestak: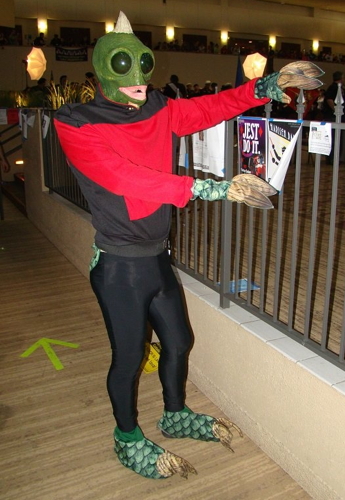 Swimming mermaids (plus bonus Aquawoman):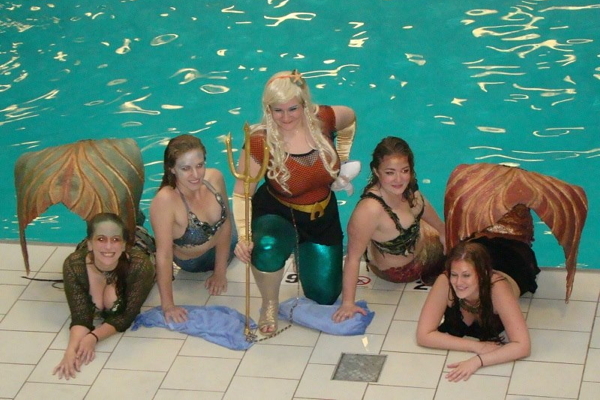 ---
The party scene, as experienced by Felicity: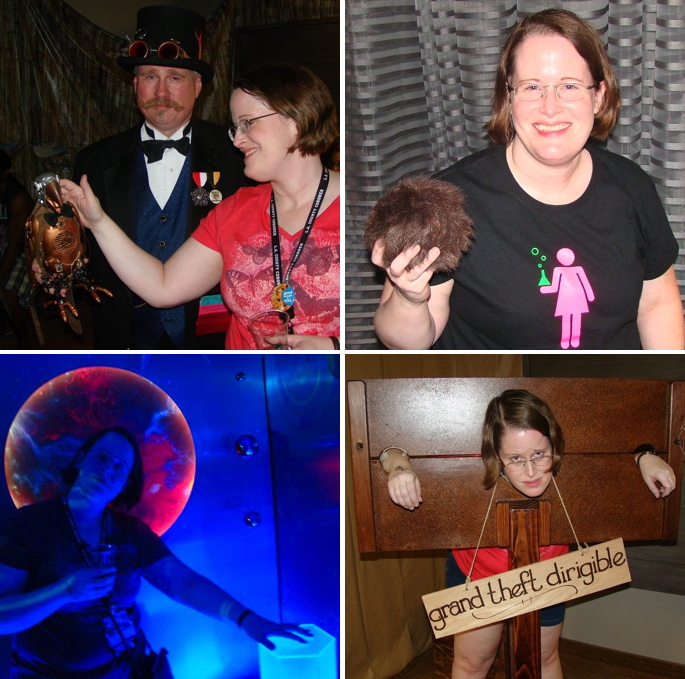 Last but not least: The Floor Is Lava!