Sun, September 21, 2014
Flopcast 124: Three Jobs, a Dog, and a Hula Hoop
As we enter the fall, Kevin asks Kornflake about her various silly late summer activities. This was probably a huge mistake. The discussion includes: VHS tapes of punctuation-based humor, good books and bad dates, bringing lobsters to the car wash (for science!), thinking about Mr. T (it's what we do), and another Hula Hoop update (introducing the terrifying concept of "crust-hooping"). Meanwhile, Kevin's late summer schedule was no less ridiculous, which is why this week's concert reports feature Air Supply, 38 Special, and Night Ranger. (Sorry — we keep forgetting this isn't 1983.)
---
Show Notes
Celebrate National Punctuation Day on September 24! Thinking about punctuation reminds Kornflake of this Victor Borge routine, a version of which aired on The Electric Company.
Speaking of The Electric Company, here is a song about punctuation featuring Rita Moreno. The kids dancing in the background are difficult to see clearly, but we're pretty sure Irene Cara is among them!
---
A joke article stating that Betty White Dyes Peacefully in Her Home led to rumors of her death, spread by people who don't read very carefully.
---
Inspired perhaps by our experiment involving rubber chickens and Lionel Richie music in Flopcast 121, Kornflake decided to study how toy lobsters react to a car wash. One of them definitely looks freaked out.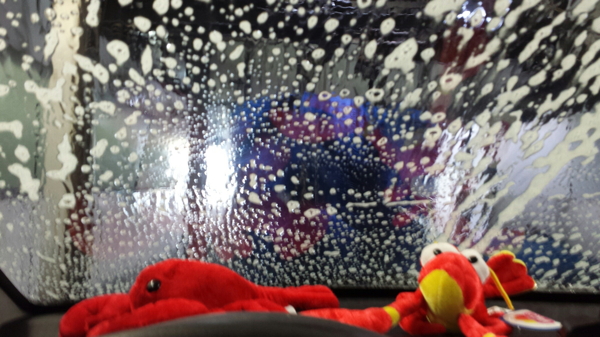 ---
Felicity may have been tricked into going to see Air Supply yet again, but she was fully on board for Night Ranger and 38 Special.