Sun, March 1, 2015
Flopcast 147: Flying Monkeys Run in the Family
The Mayor of Chickentown reports on the Gallifrey One convention (where she met a Doctor Who-themed Muppet) and Rebecca Watson's Quiz-o-Tron (where Mike Phirman had to count his chickens); during an impromptu Top 4 ½ List of frozen foods, we vaguely recall Hot Bites, Otter Pops, and horrifying school lunches; Howard Jones is coming, and we're walking on sunshine, Katrina-style; and we reveal some of the shiny new items we're bringing to MarsCon next week. (If you've always dreamed of owning a "You Love The Flopcast" badge ribbon... this is your big chance.)
---
Show Notes
As decreed by Ronald Reagan in 1984, March 6 is National Frozen Food Day. Kevin and Kornflake's improvised Top 4 ½ List includes some odd choices, but we can confirm that Otter Pops and Hot Bites are real things.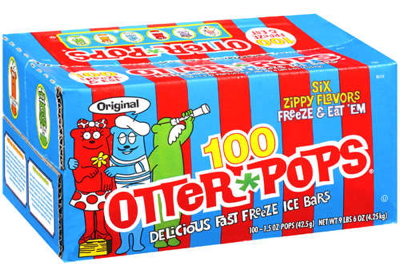 ---
Felicity gives a report on the Gallifrey One Doctor Who convention, including a side-trip to see Quiz-o-Tron.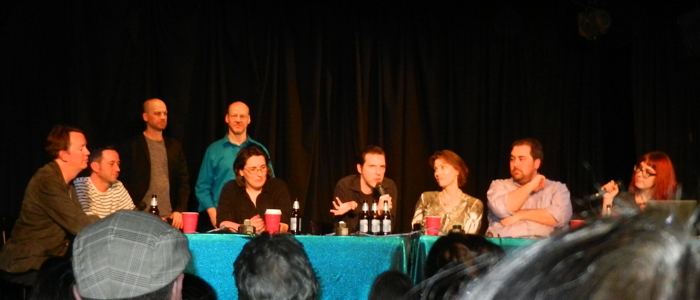 L-R: Sean Carroll, Mike Phirman, Scott Sigler, Phil Plait, Amy Berg, Joseph Scrimshaw, Jennifer Ouellette, Hal Lublin, and host Rebecca Watson. Felicity also ran into friends Maria and Heina at the event.
---
At the convention proper, Felicity appeared on two panels and recorded an episode of the Doctor Who Book Club podcast. She met John and Will from another podcast, Mutter's Spiral, who captured some great discussions and even a live proposal. (Felicity may have invited herself onto a future episode...she's letting all this exposure go to her head.) Radio Free Skaro, Two-Minute Time Lord, and Verity! also deserve mentions for their convention presence.
---
These photos from Gallifrey One demonstrate what a big deal badge ribbons are (and why the Flopcast is jumping on that bandwagon for MarsCon). Here is "Tom Beaker"...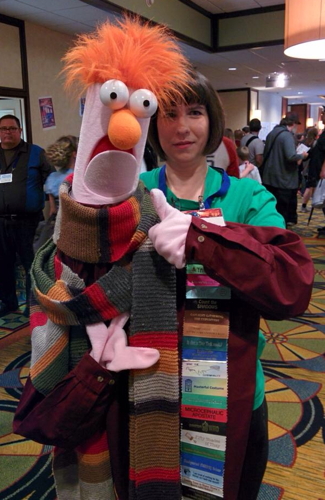 A cosplaying service dog dressed as K-9...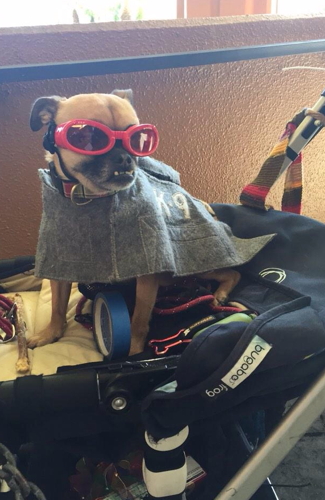 And menoptera from the 1965 serial "The Web Planet"!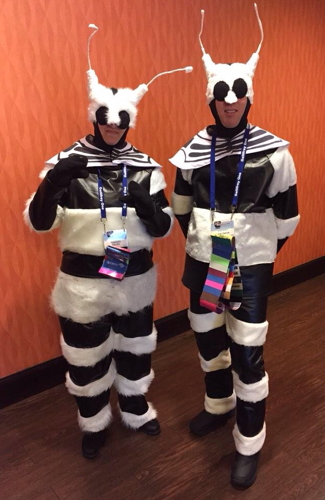 ---
Kevin, Kornflake, and Felicity will all be going to see Howard Jones at Tupelo Music Hall on March 21, with Katrina opening. Here's that other Katrina and the Waves song Kevin mentioned.
---
Finally, we have some very important images to share from the official MarsCon Dementia Track T-shirt: