Sun, November 10, 2013
Flopcast 079: Chickosaurus Rex
The Mayor of Chickentown joins Kevin and Kornflake to discuss the upcoming holiday movie season — we're looking for anything with hobbits, thunder gods, or time-traveling turkeys. (But mostly time-traveling turkeys.) Also: We reveal the existence of a secret (and possibly evil) Button Society, we start a crazy new rumor about Calvin and Hobbes creator Bill Watterson, and we learn which celebrity guest at the Super Megafest convention is going to make Kornflake freak out. (Oh, we also learn that Kornflake hates Velcro, but deep in your heart, you already knew that.)
---
Show Notes
You can celebrate National Button Day on November 16, as suggested by Kornflake's friend Plushie Cat, or if you're really serious you can join the National Button Society and party all year round. Kornflake will be celebrating the dog Buttons from Animaniacs.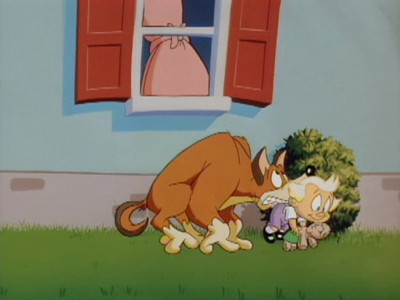 ---
Who knew that mention of Velcro would make Kornflake so angry? Don't tell her that Kevin found a song about Velcro from the comedy duo Rhett & Link. (We love a good comedy duo.)
---
Among the holiday movies we're looking forward to seeing is Thor: The Dark World with Chris Hemsworth and Tom Hiddleston (Rawr).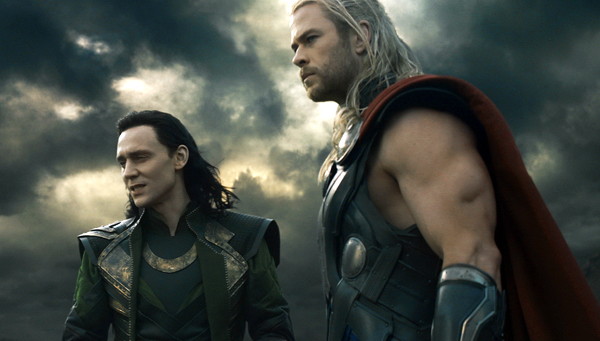 In The Hobbit: The Desolation of Smaug, Martin Freeman (Bilbo) collaborates with his Sherlock co-star Benedict Cumberbatch (RAWR) as the voice of Smaug.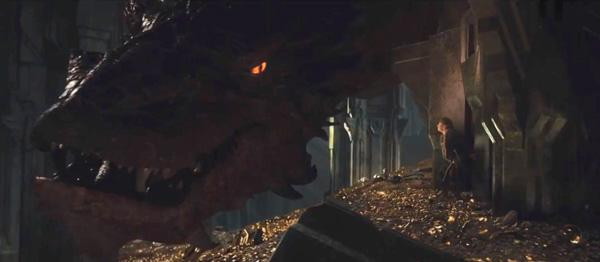 We're also interested in documentaries featuring Bikini Kill's Kathleen Hanna, Calvin & Hobbes creator Bill Watterson, and iconic pinup Bettie Page as subjects.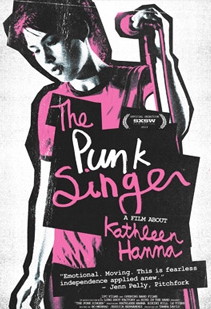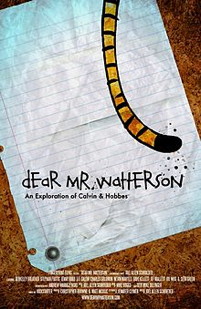 And Walking With Dinosaurs is indeed based on the 1999 BBC miniseries of the same name.
---
By the time you read this, Kevin and Felicity will have already seen Free Birds, which they recommend wholeheartedly.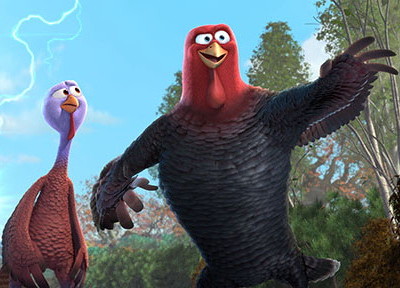 ---
This episode is an emotional rollercoaster for Kornflake, as she goes from Velcro-fueled fury to exuberant joy at the news that Bronson Pinchot will be attending Super Megafest! Here he is with Gonzo, because why not.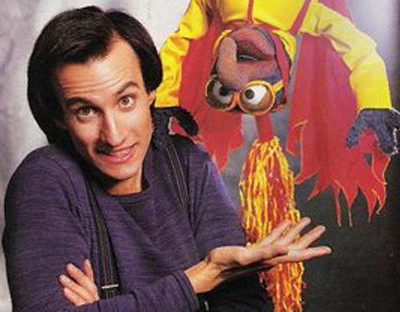 Felicity is looking forward to meeting John Heder, aka Napoleon Dynamite, but more importantly the voice of Chicken Joe from Surf's Up!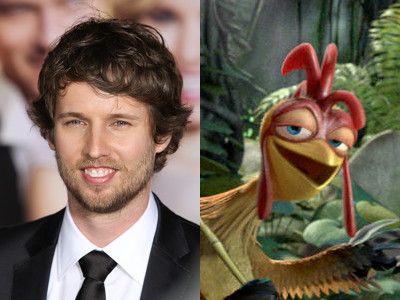 Friend of the Flopcast Niki Luparelli will also be performing.
---
When discussing Three Dog Night, Felicity failed to remember "Black and White" and "Mama Told Me Not to Come". They did indeed cover "An Old Fashioned Love Song", which was written by Paul Williams (and performed here with his frequent collaborators, the Muppets).