Sunday, August 21, 2016
Flopcast 224: Rick Springfield Petting Zoo
Breaking news: The Olympic golf course has been overrun by capybaras (our favorite giant rodents), and it's pretty much the greatest thing in sports history. Meanwhile, Kornflake and Doornail celebrate Thanksgiving, on the beach, in August. (Peppermint Patty was aghast... but at least the menu didn't consist of popcorn and toast.) And Kevin's summer of goofy retro concerts reaches its finale with three shows in a week: Rick Springfield (who introduced the word "moot" to pop music), The Go-Go's (on their farewell tour — be sure to catch them before they stop-stop), and Belly (Boston's mid-90s alt-pop heroes, back after a quick 20 year break). Now before we make our final preparations for FumpFest and DragonCon, we just have to launch our new fashion line for golfing rodents. (Yes, Kenny Loggins will perform "I'm Alright" at the runway show.)
---
Show Notes
It's not often we're able to get in on the ground floor of a National Whatever Day. On August 26, salute your favorite Webmistress! We might have a suggestion for you...
---
Capybaras on a golf course? Don't tell Bill Murray, but it sounds like a great idea to us!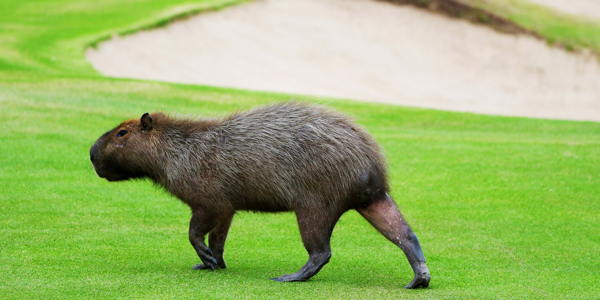 ---
The Flopcast Summer Concert Series wraps up with Rick Springfield, the Go-Go's, and Belly.