Sunday, September 25, 2016
Flopcast 229: DragonCon 2016 - Do You Want a Banana?
It's our annual DragonCon review show, in which Kornflake patiently tolerates Kevin's endless yammering about our very favorite gathering of nerds and/or geeks in hot and sticky downtown Atlanta, Georgia! Featuring: All our crazy awesome friends from the ESO Network, the American Sci-Fi and Fantasy Media Track, the American Sci-Fi Classics Track, and Wicked Geeky; a field trip to the Center for Puppetry Arts (to visit all the Muppets, plus Kornflake's old friend Up-Up from Romper Room); the Cult of the Marriott Carpet; Kevin explaining "filk" on DragonCon TV; panels on Little Shop of Horrors, Watchmen, Gotham, Wonder Woman (with George Pérez!), and mullets; music from Here Come the Mummies, Kirby Krackle, Paul and Storm, Molly Lewis, The Doubleclicks, and Jonathan Coulton; the stars of Mystery Science Theater 3000 (Frank, Trace, and Bill!); the stars of Flash Gordon and/or Manimal (Sam Jones and Melody Anderson!); the one true star of Caddyshack (that'd be the dancing gopher, of course); a mysterious Polaroid fairy; an unexpected banana; and giant space chickens. Yikes, that was not a normal weekend. Also: We're celebrating National Good Neighbor Day (with a little help from Davey and Goliath), and we're drinking Hi-C Ecto Cooler from a plastic tiki cup. Because if nothing else, DragonCon taught us to be classy.
---
Show Notes
Despite his numerous faults (usually pointed out by the much smarter Goliath), Davey is a good neighbor.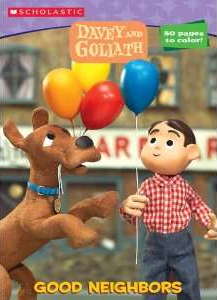 ---
The Mayor wanted to participate in this episode, but she was too busy. Here she is on her first DragonCon panel (released in podcast form as Earth Station One Episode 334)...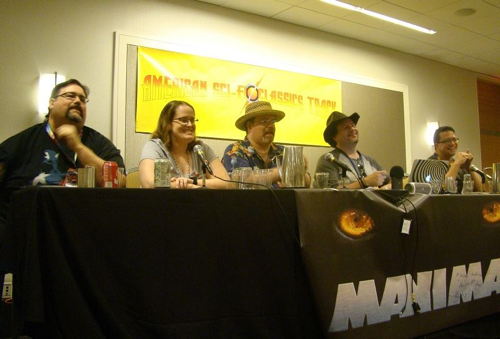 ...and in her first DragonCon cosplay, as Kira from Xanadu (sitting on the Goblin King's throne, no less)!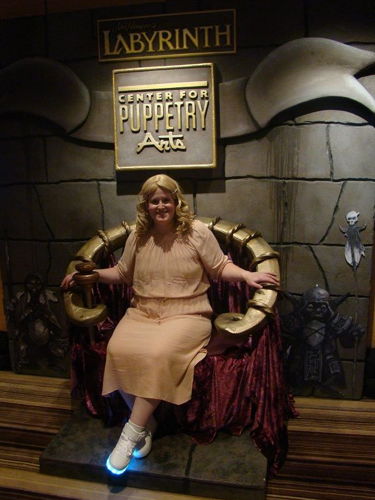 She also joined the whole crazy ESO gang for the recording of the 6th Annual DragonCon Special!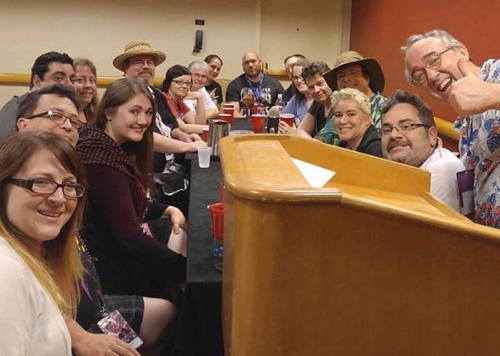 ---
Here's a selection of other photos from the weekend, with many more to be found on Facebook.