Sunday, October 17, 2021
Flopcast 493: The Backs of Life 6 - Graduation
We just can't stop reviewing "backdoor pilot" episodes of The Facts of Life, so here we go again. This time Blair and Jo are graduating from Eastland, and perhaps this could have led to a spinoff series set at nearby Langley College. It didn't, of course, but it's still a fun two-part episode. We meet several new girls: Alexandra could have been a new Blair-type character at Eastland, while the graduating Emily, Bonnie, and Lisa could have joined a new cast at Langley. (For Lisa, life is a series of shoe problems. She could have become the most psychologically troubled sitcom character since Jan Brady.) We also have Mrs. Garrett juggling dozens of Jello molds and hundreds of pineapples, Roy the creepy bread delivery boy, a bizarre flashback sequence, Tootie seemingly in charge of the whole graduation ceremony, and the trouble with tassels. Also: We wish a Happy Birthday to Mork & Mindy's Pam Dawber, Kevin is on Gleaming the Tube and Earth Station One, and Kornflake is hiding under a giant pile of blankets.
---
Show Notes
Mork and Mindy await the arrival of Mearth. Happy Birthday, Pam Dawber!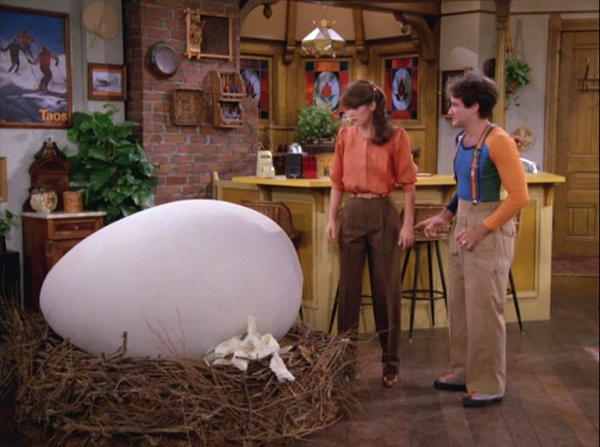 ---
Here's how the season 4 finale of The Facts of Life was advertised!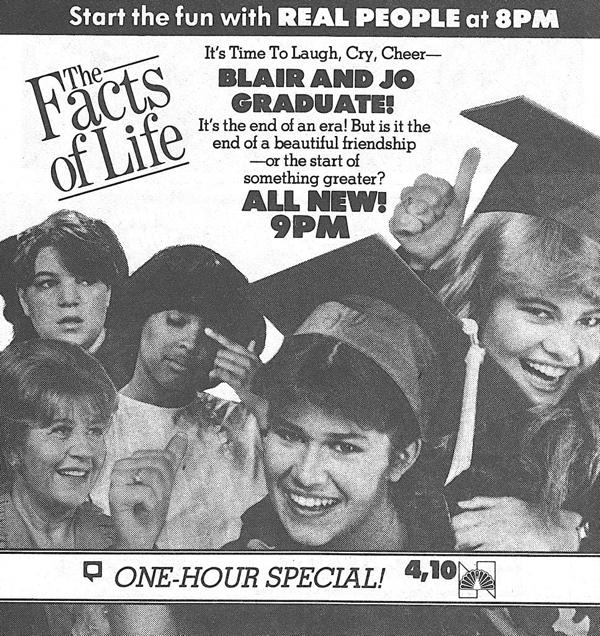 ---
Kevin recently appeared on Earth Station One, discussing the Monkees with Mike and Mike. Then the Kevin to Mike ratio flips, with Kevin appearing on Gleaming the Tube with Kevin and Mike!