Sun, September 15, 2013
Flopcast 071: DragonCon 2013 - Sleestak Spit Take
Kevin is back from Atlanta with a full report on DragonCon, featuring 50,000 nerds and/or geeks, the Bionic Man and Woman, High Feather cosplayers, booze-serving robots, Canadian teen pop star Robin Sparkles, the Flying Spaghetti Monster, Shatner, a steampunk owl catcher, Hulk cologne, and yes, Charles Nelson Reilly. Kind of a strange weekend, in retrospect. We also get in some music talk, and recommend George Hrab, Sufjan Stevens, and 80s-style arena rock. (Admit it, you love REO Speedwagon.) And Kornflake reminds us to remind her about Talk Like a Pirate Day. But we won't.
---
Show Notes
That's musician and podcaster George Hrab you hear at the top of the show. Kevin attended his full-orchestra concert last year in Bethlehem, PA, and the DVD from that show is now available. Here's George with "Bad Astronomer" Phil Plait, performing "Death from the Skies".
---
In other musical news, Kornflake recommends Sufjan Stevens (he's Doctor Demento-approved!) and Kevin recounts recent concerts by REO Speedwagon and Styx and Huey Lewis and the News.
---
Talk Like a Pirate Day is coming up September 19. As mentioned, this is a very popular holiday for devotees of the Flying Spaghetti Monster. Here are Felicity and Kevin in a rare costumed appearance, from a Halloween party many moons ago.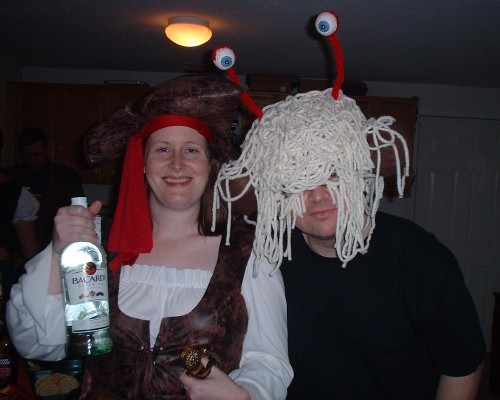 ---
Mention of our noodly deity leads us to DragonCon, where two gods meet...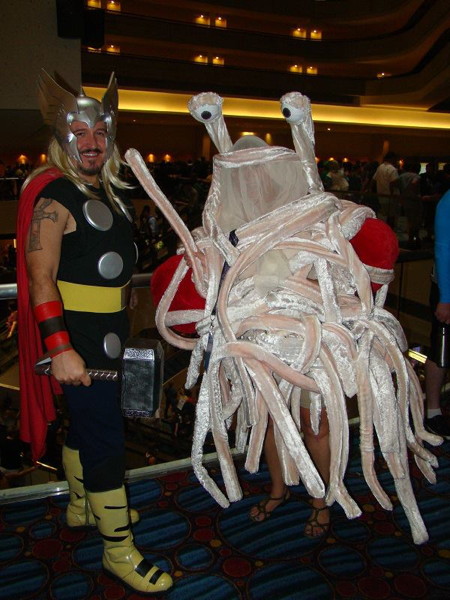 Christine makes Kevin's High Feather cosplay dreams come true...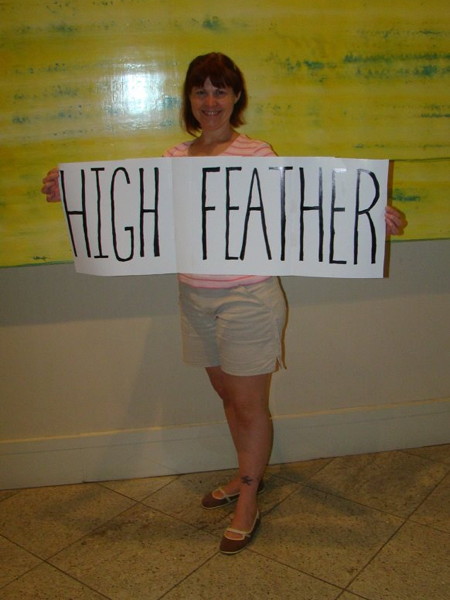 Liz brings Robin Sparkles to life...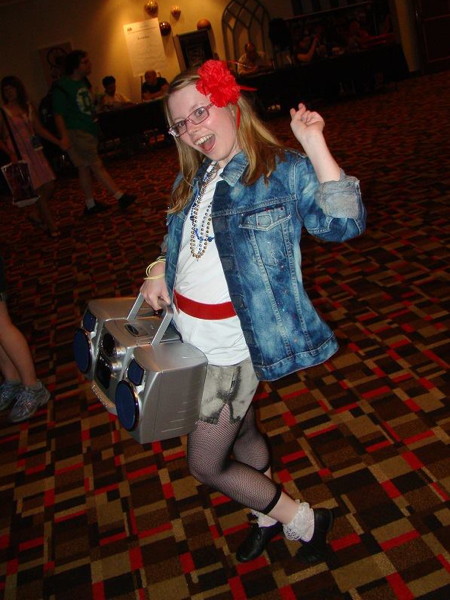 And last year's breakout star, Carl from Aqua Teen Hunger Force (aka Lex), makes a surprise return appearance, along with his wife Rebecca as a '90s club kid!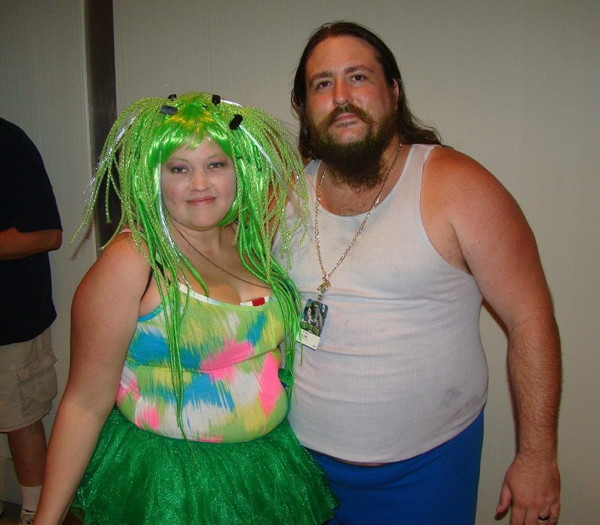 ---
Rebecca Watson's annual Quiz-O-Tron, a popular part of the Skeptrack, brought together the aforementioned Phil Plait, Rifftrax's Bill Corbett, Paul and Storm, and Molly Lewis, among others.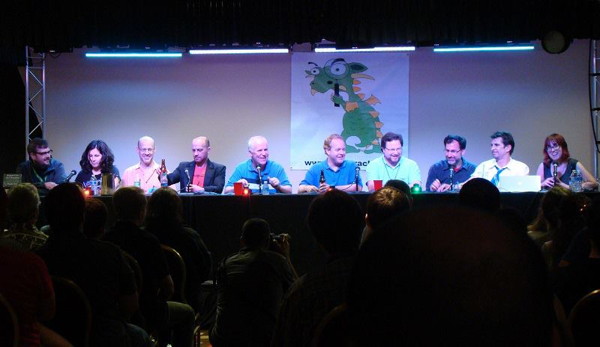 Kevin would later see Paul and Storm, Bill, and Molly perform along with Mike Phirman, Joseph Scrimshaw, and Adam Savage at the annual Gonzaroo comedy and music event. You can also listen to a hilarious podcast episode that Paul and Storm taped live at DragonCon, featuring Phil, Molly, and Lucky Yates from Archer.
---
Here's Kevin with Last DragonCon star Deena Roth. She has made a second video (below) and is working on a third.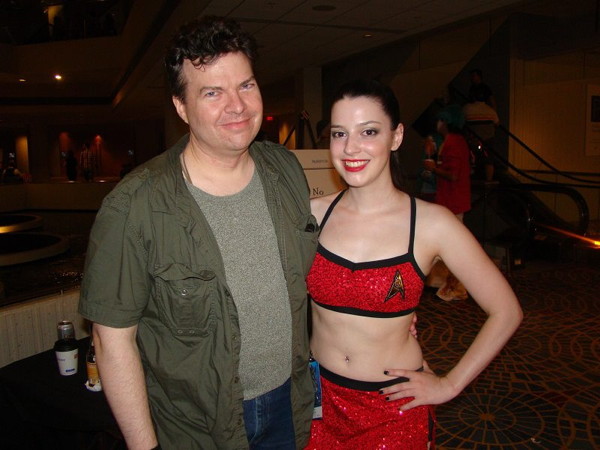 ---
More costumes! The much buzzed-about Marriott Carpet Camouflage Soldiers: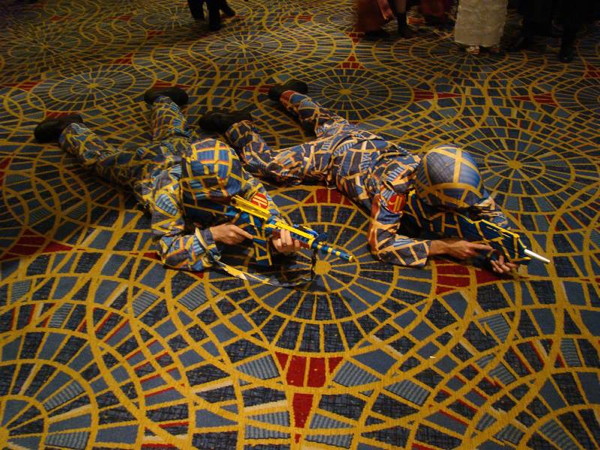 Kevin's friend, author K.C. Shaw, in her lovely Steampunk Owlcatcher costume: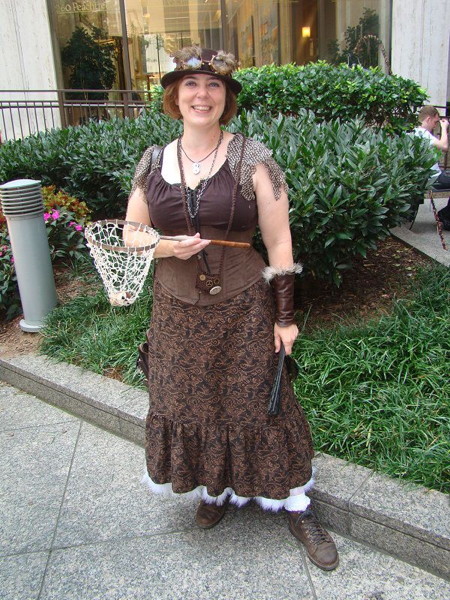 A very accurate Charles Nelson Reilly showed up at the Match Game panel, not as a participant but as an audience member!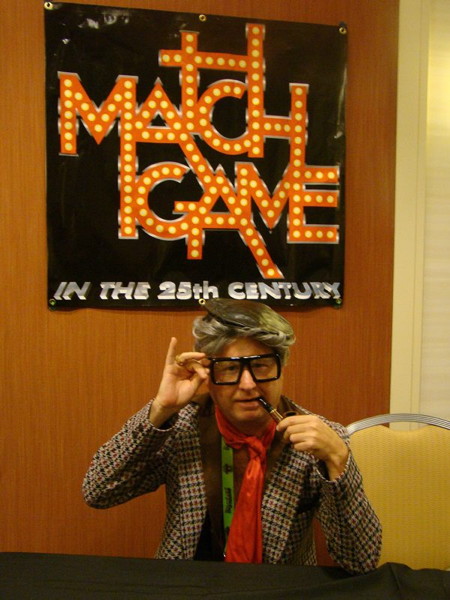 That's enough photos for one page, so check out Facebook for many more.
---
Okay, just one last photo: Kevin with Joe Crowe, track director for American Sci-Fi Classics at DragonCon. I think this is the beginning of a beautiful friendship!