Sunday, July 16, 2017
Flopcast 271: CONvergence 2017 - Smuckering the Bed
We're back from Minnesota with a full report on CONvergence, an annual gathering of awesome crazy people who are really into convention badge ribbons. (We may have given out more Flopcast ribbons this year than ever before! It's the boldest fashion accessory of the season.) Our report features: Convention panels (on podcasting, Flash Gordon, Jack Kirby, Legends of Tomorrow, and the Star Wars Holiday Special), performances (from Beth Kinderman and the Player Characters, Karl Brown, Joseph Scrimshaw, and the Nerdlesque dancers), birds and snakes (from the Raptor Center and the Herpetological Society), life on Mars (hello, Robolar), an amazing Bea Arthur costume, and a field trip to the Minneapolis Sculpture Garden to visit a giant blue chicken. Meanwhile, Kornflake survived a dark and stormy night at Fenway Park, where she partied like it's 1991 with Paula Abdul, Boyz II Men, and her beloved New Kids on the Block. Also: We reach the halfway point in our High Feather series review with episode 5, featuring more summer camp ceramic mug-making action than you can possibly handle. And it's World Emoji Day. But instead of sending little smiley faces to your stupid friends, just send a turxt.
---
Show Notes
The Mayor sends her apologies for the belated, minimal show notes this week. Here's the High Feather playlist and a photo of a giant blue chicken.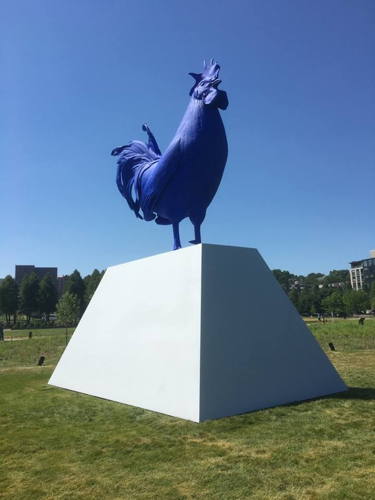 Check out the rest of Kevin's convention photos on Facebook!