Sunday, November 12, 2023
Flopcast 601: All Alone, All Alone, All Alone
It's the quick fill-in episode to end all quick fill-in episodes! With Kornflake still unavailable (busy at a lobster-and-British-comedy convention, we assume), there's nobody left in the studio except Kevin and a few stray rubber chickens. So we just have a bunch of podcast recommendations for you, because somebody out there must have more going on than us. There are the other fine shows of the ESO Network, of course, including two new ones: 3 Fries Short (all about Stargate) and Tales From Hollywoodland (with special guest STEVE GUTTENBERG)! Beyond ESO, we also recommend: A Podcask of Amontillado, Bizarre Albums, Built to Go, Conan O'Brien Needs a Friend, Mallwalkin', The Dana Gould Hour, TV Guidance Counselor, Decoder Ring, Dreamland, The Funny Music Podcast, Gilbert Gottfried's Amazing Colossal Podcast, Gleaming the Tube, Hit Parade, The Hustle, Luke and Carrie's Bad Rapport, The Real Brady Bros, The Skeptics' Guide to the Universe, Strange Animals Podcast, and Who Cares About the Rock Hall. We could go on, but that should get you through the week. And if you'd rather rip out those earbuds and read something instead, we're also enjoying the new book Galloping Around the Cosmos. It's a collection of essays about growing up with Star Trek, and several of the authors are friends of the Flopcast. It makes us want to break out our old Mego Enterprise playset. Next week: We'll either get back to our usual silly business, or we'll turn the whole show over to the chickens.
---
Show Notes
Galloping Around the Cosmos includes contributions from several authors we know from Dragon Con, as well our dear friend and Earth Station One co-host Michael Gordon!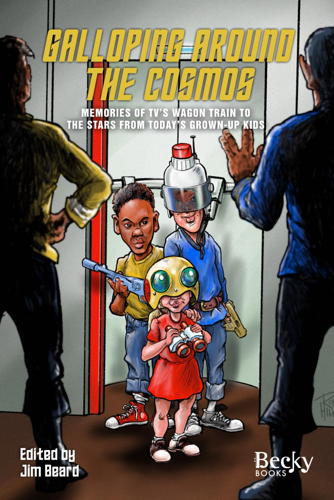 ---
The ESO Network recently added 3 Fries Short and Tales from Hollywoodland to their stable!
---
Other podcast platforms showing up more than once on Kevin's list are Team Coco and Slate. An endless supply of listening material awaits you!