Sun, May 11, 2014
Flopcast 105: Bed Bath and Batman Beyond
Happy 75th Birthday to Batman! This week Kevin and Kornflake look back at the Caped Crusader's first 75 years, including: Bat-Mite (Batman's Great Gazoo-style imp), Batwoman (who fought crime using jewelry and makeup, because, you know, she was a girl), and Ace the Bat-Hound (a dog with a mask)! And don't forget Cesar Romero's mustache! Or the time Batman met Weird Al! Also: We introduce a new superhero of our own (lobster-themed, of course), and we celebrate Sea Monkey Day (because we like fooling children). This show is such a Bat-tacular (as Kornflake calls it) that you'll want to display a giant penny in your living room.
---
Show Notes
Kevin is unusually excited about celebrating National Sea Monkey Day on May 16. Kornflake teaches us a thing or two about the brine shrimp, including the fact that comic artist Joe Orlando was responsible for the, um, creative art used to sell these "pets".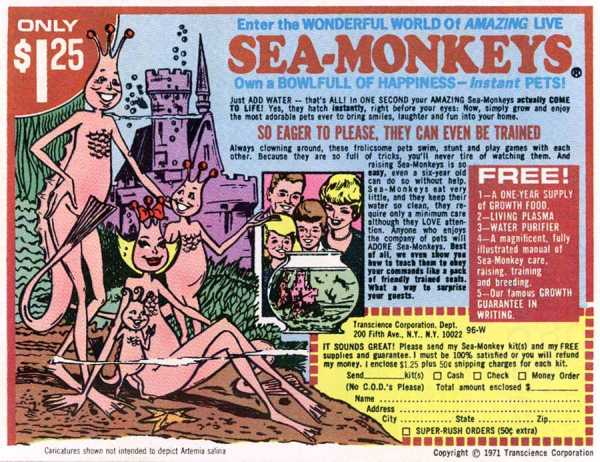 Airing for 11 episodes in 1992, The Amazing Live Sea Monkeys was not a cartoon, as Kornflake thought (and any reasonable person would assume), but a live-action show that featured Howie Mandel among the cast.
---
On to the star of this episode...Lobstarr!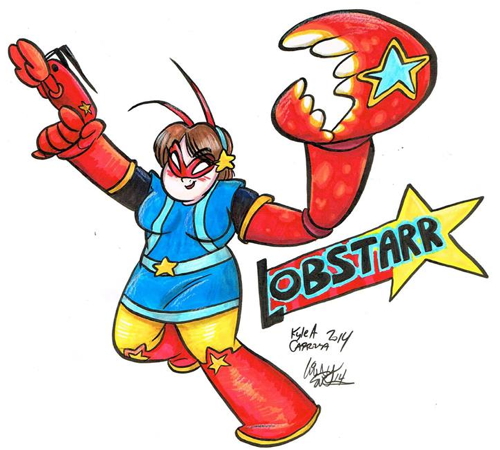 ---
Just kidding. The real star, of course, is Bat-Mite! Making his comic debut in 1959, he later became a regular character in the 1977 Filmation series The New Adventures of Batman.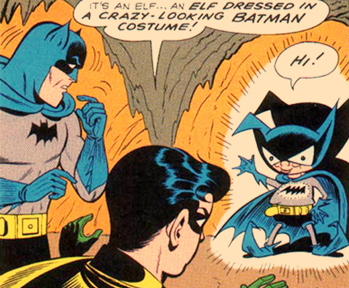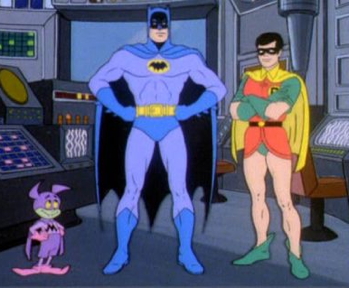 ---
Besides that mischevious imp and the faithful (and unfortunately-costumed) Robin, Batman's other memorable associates included Batwoman and Ace the Bat-Hound.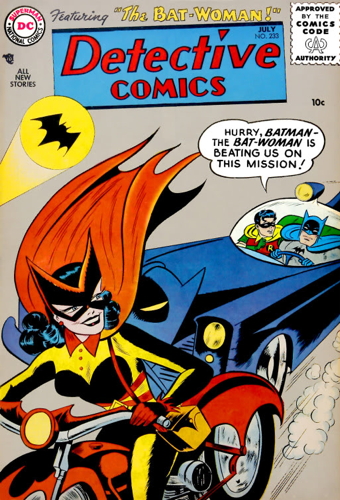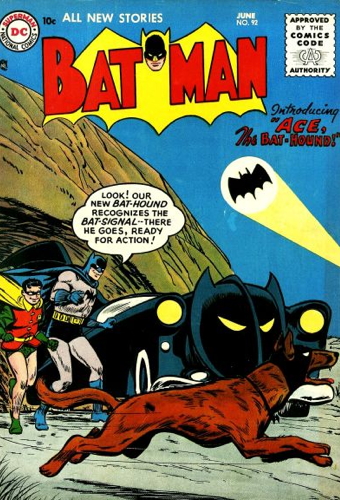 Batwoman acquired her own sidekick, Bat-Girl, not to be confused with future Batman sidekick Batgirl. (Comics continuity is tricky, folks.)
---
Batman teamed up with just about everybody in Batman: The Brave and the Bold, based on the long-running comic book of the same name. Reaching beyond the usual DC Comics roster, he even worked with Space Ghost...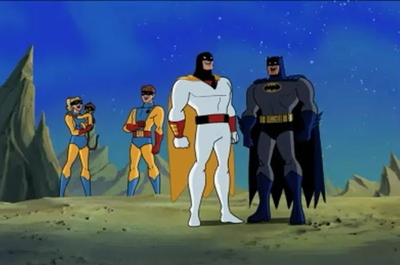 ...and the Scooby gang, and Weird Al!? Guess who was behind that caper.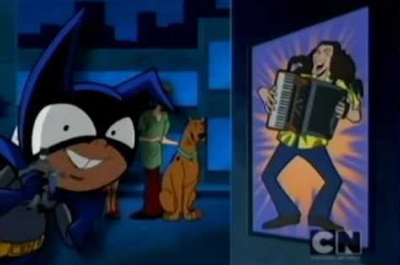 ---
Now for a few Batman oddities. Here's an early live-action depiction of the Dynamic Duo in film serial form: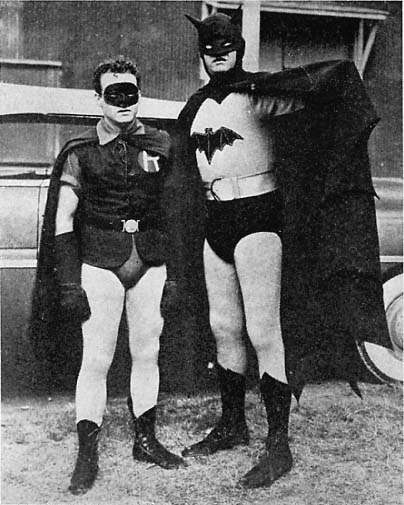 Cesar Romero's infamous mustache, not quite hidden by the Joker make-up: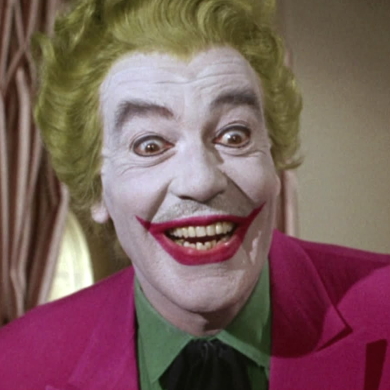 The Super Friends Heimlich maneuver lesson, which must have been prime fodder for The Ambiguously Gay Duo:
---
There are way too many television and film depictions of Batman to list here (there's even a new one coming to FOX this Fall: Gotham), so we'll just direct you to Wikipedia's extensive coverage.
---
How better to commemorate Batman's 75th anniversary? The beloved (if somewhat divisive) 1960s TV series is finally coming to DVD this year.