Sunday, February 20, 2022
Flopcast 511: Made With Earth Fruit
Another weird mix of stuff from our latest Saturday morning recording session (for which we keep forgetting the Cocoa Puffs): For National Whatever Day we're celebrating a forgotten 1920s silent movie (and also guys named Mike); a box of wine was shipped to the studio from Washington state (or possibly Mars); Kornflake witnesses the miraculous birth of a shrimp; a miraculous newborn shrimp receives an inappropriate name; we zip through a lightning round of TV talk (covering Derry Girls, Bridgerton, The Book of Boba Fett, Peacemaker, Pen15, and Norwegian game shows); and Kornflake is back on Twitter for an online concert by Jim's Big Ego. Now enjoy, while we spend the rest of our Saturday flopping around doing nothing.
---
Show Notes
The Mayor apologizes for the lateness of these notes. She was able to travel far from Chickentown to her favorite convention, Gallifrey One! Here's a Meeping Angel for penance.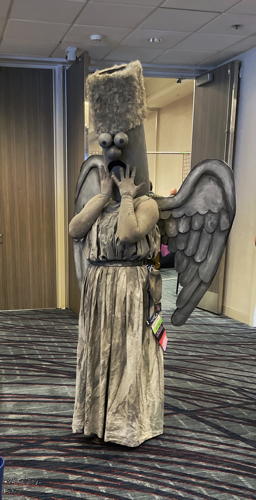 ---
Meanwhile, Kornflake's gift from Bledsoe Family Winery arrived in Chickentown just days after being discussed on the Flopcast!