Sun, January 20, 2013
Flopcast 037: In a Row?
For episode 37, we just had to talk about Clerks, Mallrats, Chasing Amy, and all the movies of Kevin Smith. Come on, you know why. Also: Kevin cannot escape from Jennifer Grey's dog, Kornflake is frantically listening to every funny song released last year, Ms. Pac-Man and The Hobbit are a dangerous combination, and everyone on the Internet alerts us about this week's "Chickens in the News." (Note: By "everyone," we mean three people. We round up.)
---
Show Notes
Thanks to Felicity's Christmas gift of Get a Life on DVD, Kevin discovered another valuable show business link: Jennifer Grey's dog (previously mentioned on Flopcast 028). Let's see, Kevin appeared with Jennifer Grey's dog on Breakfast Time, who appeared on Get a Life with Chris Elliott...To be honest, it's probably easier to get to Kevin Bacon through Jennifer Grey herself. If you have a solution, send it to us!
---
Felicity has one up on both Kevin and Kornflake. Rather than discovering Clerks on video, she saw it during the Boston Film Festival, at the long-defunct Copley Place theater. The Nickelodeon, where Kevin and Felicity missed an opportunity to meet during a screening of Chasing Amy, is also gone, and was the subject of a brief discussion between Felicity and Kevin Smith at his Coolidge Corner Q&A last year.
---
Kevin and Kevin at San Diego Comic-Con in 1998: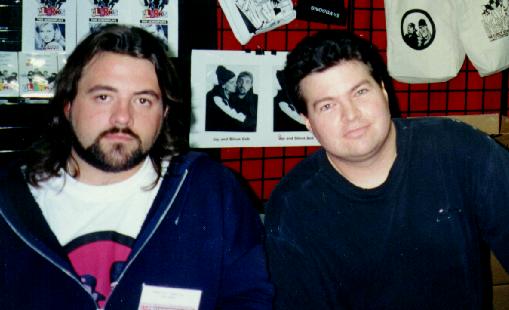 ---
During Vulgarthon 2000, Kevin snapped these photos of fellow festival attendees re-enacting scenes from Clerks: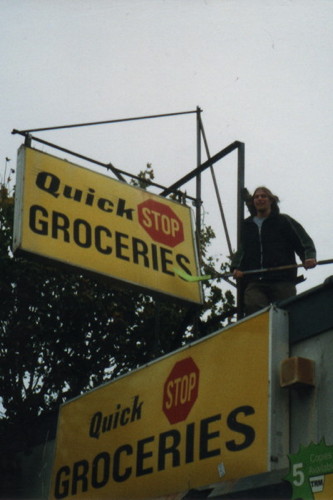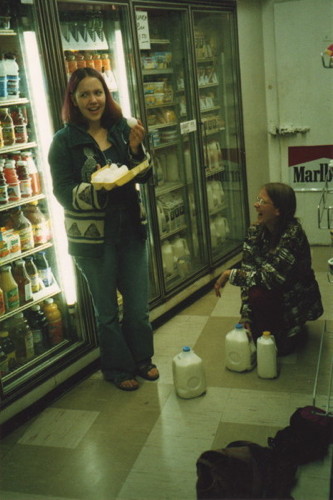 ---
Felicity joined Kevin for Vulgarthon 2002: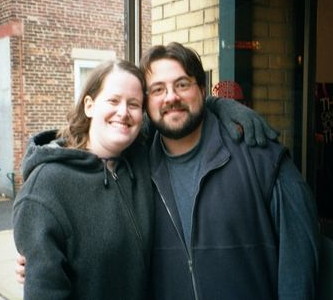 ---
Kevin Smith now presides over the SModcast empire, which includes several podcasts, an internet radio station, a YouTube channel, and the show Comic Book Men on AMC. Last month he did a cute interview with Good Day LA in which he talks about his plans for Hit Somebody and Clerks 3 (and a dozen other things, as is his habit).
---
Cluck Cluck is the name of this heroic hen, credited with saving her owners from a fire.