Sun, February 8, 2015
Flopcast 144: USA for Chickentown
There comes a time for Kevin and Kornflake to devote the whole stupid show to the 30th anniversary of "We Are the World" by USA for Africa! We're shameless 80s geeks, our Lionel Richie mugs are loaded with nasty black coffee, and we don't care how long this takes. We discuss each "We Are the World" soloist (and learn which one Kornflake was planning to marry), as well as each member of the chorus (even Dan Aykroyd, whose presence still puzzles us). We also note some artists who should have been there, but weren't. (Alas, without Irene Cara, there was no D.C. Cab representation...) And we list our favorite "We Are the World"-inspired parodies, including songs from the Ramones, the FuMP, and Saturday Night Live (where Michael Bolton sang for the chickens). Discussed along the way: 70s Stevie Wonder vs. 80s Stevie Wonder, Bob Dylan vs. Buckwheat, Cyndi Lauper's giant 80s earrings, Lindsey Buckingham's giant 80s hair, Billy Ocean's weird island, and Dionne Warwick's creepy psychic friends. Also: Clean Your Computer Day is this week. But since we're sort of trapped in 1985, just clean your Commodore 64.
---
Show Notes
Kornflake refers to the physical cleaning of a computer, if you have one of those old towers that accumulates colonies of dust bunnies inside, but in today's world National Clean Out Your Computer Day is more about getting rid of duplicate files, programs you don't use, et cetera.
---
On to the main topic of today's show, the Justice League of Pop Music that was USA for Africa.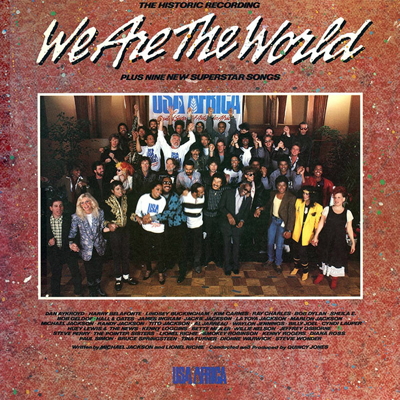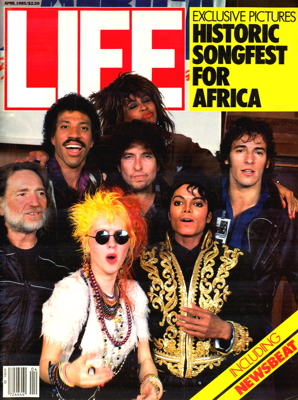 Refresh your memory by watching the video and follow along with us as we look back 30 years...
---
Because we are us, we had to talk about parodies as well, including Kevin's favorite (for obvious reasons), SNL's Let the Chickens Be.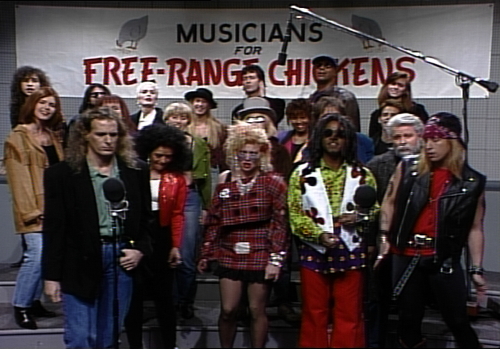 ---
The personalities that the Ramones assembled for "Something to Believe In" include Weird Al!
---
The Simpsons paid tribute with Sending Our Love Down the Well.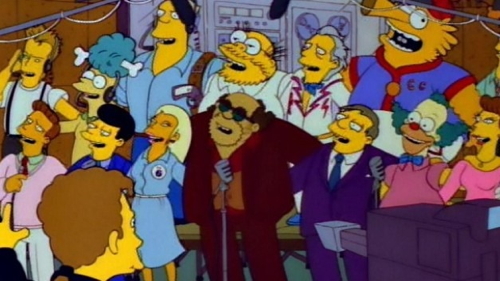 ---
Closer to home, We Are the FuMP featured many of our comedy music friends, and the live FuMPFeST performance (discussed in Flopcast 114) included our very own Kornflake!