Sun, March 16, 2014
Flopcast 097: MarsCon 2014 Part 1 - Let the Kornflake Win
The Pod of Destiny's Blasted Bill joins Kevin and Kornflake for another "Flop of Destiny" recording session, live from MarsCon in Bloomington, Minnesota! And we're joined by a crazy lineup of comedy musicians, Dementia Radio DJs, and miscellaneous wandering weirdos, including: Doornail, Wacky Ben, TV's Kyle, Lindsay, Insane Ian, ShoEboX of Worm Quartet, Mikey Mason, Madman Ken, Beth Kinderman, Angela, Wild Card, Bob, Jayekitty, and a woman dressed as a giant drop of blood! We tackle all the pressing issues of the day, such as: Dementia Smackdown Wrestling, Dementia Water Aerobics, Kevin's new all-time favorite convention costume, Kornflake freaking out over meeting Doctor Demento, and how to frighten old ladies at TGI Fridays. Plus: Lindsay provides a super-violent edition of "What's in the Bag"! Hang on, kids — if you want to hear a dozen people screaming at the same time and having way more fun than you, we've got you covered this week.
---
Show Notes
The Flop of Destiny returns, but this time with a lot more people! The epic recording session was captured by Kevin in this photo: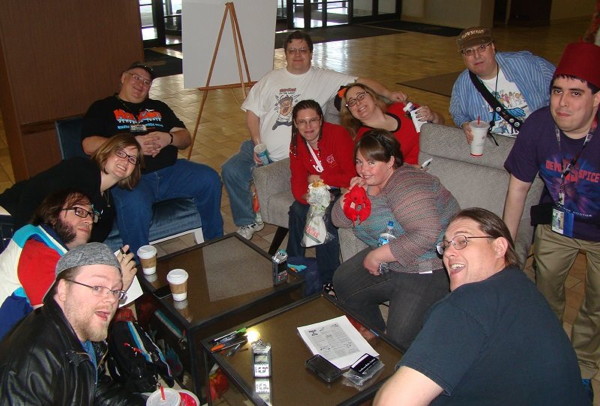 Clockwise from bottom left: Insane Ian, TV's Kyle, Lindsay, Bob, Madman Ken, Angela, Doornail, Kornflake, and Blasted Bill, with Wild Card and Wacky Ben on the far right.
Not pictured above, but also included in passing: Mikey Mason, ShoEboX from Worm Quartet, and Beth Kinderman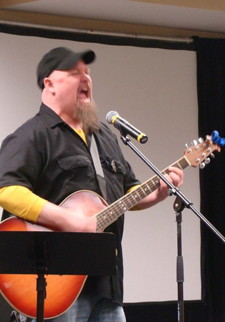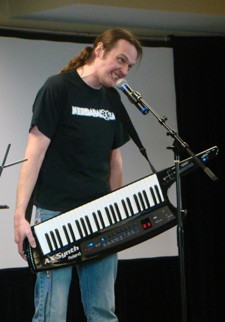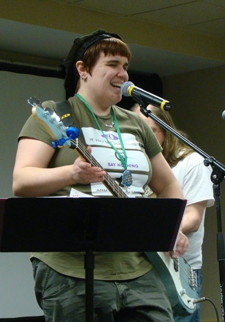 ---
The winner is Kornflake! She triumphantly wields her Dementia Wrestling belt: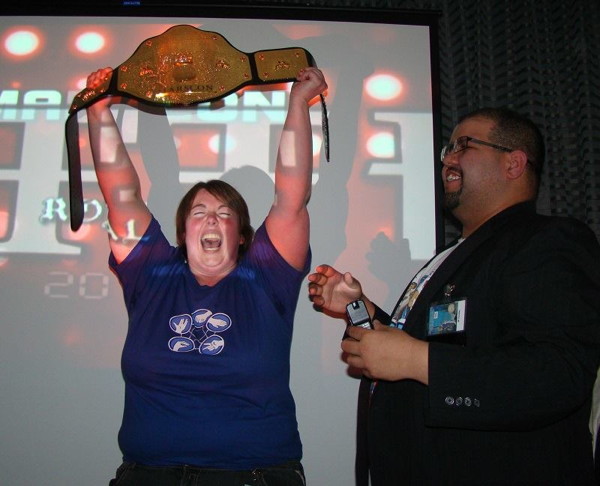 You can watch the entire match with commentary below.
---
Lindsay was responsible for this week's "What's in the Bag" segment, presenting a pair of Socker Boppers to Kornflake and prolonging her violent reign of terror.
---
Earl strikes back! After praising his transitional Aquabat-to-Penguin appearance at CONvergence (see Flopcast 062), Kevin was pleased to find Earl cosplaying as Kenny Rogers at MarsCon.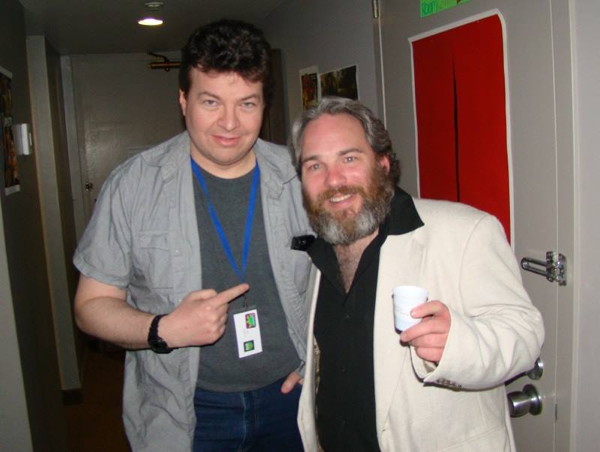 ---
The Doctor is in...between Kornflake and Kevin!